Free Professional Photographer Business Card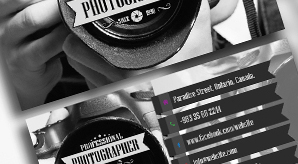 What is Photography:
Photography is the science, workmanship and routine of recording so as to make sturdy pictures light or other electromagnetic radiation, either electronically by method for a picture sensor, or synthetically by method for a light-delicate material, for example, photographic film.
Commonly, a lens is utilized to center the light reflected or transmitted from articles into a genuine picture on the light-delicate surface inside a camera amid a timed introduction. With an electronic picture sensor, this produces an electrical charge at every pixel, which is electronically prepared and put away in an advanced picture document for ensuing show or handling. The outcome with photographic emulsion is an imperceptible inert picture, which is later artificially "created" into an unmistakable picture, either negative or positive relying upon the reason for the photographic material and the system for handling. A negative picture on film is customarily used to photographically make a positive picture on a paper base, known as a print, either by utilizing an enlarger or by contact printing.
Today i designed the Professional Photographer Business Card 2015. I designed this business card in retro style, which gives the completely vintage and 1990's look with current trend. This Professional Photographer Business Card available in free version. You can use this business card design according to your requirement. This Free Professional Photographer Business Card is designed according to the theme of current trend, which is totally professional. Photography is one of the professional class in the field of advertising, which is very compulsory in a very different manners, somewhere in wedding, somewhere in products photography, still life and many more. Photography is one of the important part in digital industry. This business card is designed in layer format, which is fully editable and can be use easily for your professional designs and also for corporate identity.
Feel free to download and enjoy.
Free Professional Photographer Business Card
Free Professional Photographer Business Card Version:
Format: Ai CS6 (Editable, Vector)
Business Card Size: 3.5×2 inches
Font: Niagara (Available)
File Size: 2.58 mb
License: Free for personal use only + (Link Back to Business Card)