180-latest-awesome-premium-icons-social-media-icons-sets-collection-for-your-android-apps-windows-software-projects-2014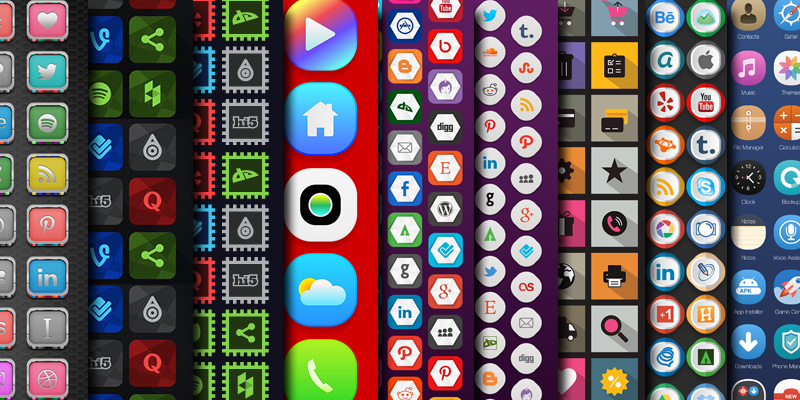 Today i share with you 180+ Latest Awesome Premium Icons-Social Media Icons Sets Collection for Your Android, Apps, Windows & Software Projects 2014. This is the complete collection of icons post. These icons are happily according to the requirement of all web designers, graphic designers and web developers.
These are all icons are latest collections by the different designers including the uiconstock. These icons are belong to different categories systems, social websites, engineering companies, softwares houses, even these collection of icons are useful for anywhere in the design field. Some of icons are thin, some are flat, long shadow, classy, premium and many more.
Feel free to download and enjoy.
Stamp Style Social Media Icons




50 Stainless Steel Social Media Icons
125 Premium Shaded Social Media Icons
126 Cute Social Media Icons/Buttons
200 Flaty Stylish Roundish Icons
Free Polygon Social Icons
SEO & Online Marketing icons
Free Social Media Icons
Premium Social Media Icons
Stylish Social Media Icons
Mini Camera Social Media Icons For Photography Websites 2014 (Ai)
iOS8 Setting Icons 2014 (Ai)
Round Papercut Social Media icons
Delicate Social Media Icons
Soft Social Media Icons
Noir Social Media Icons
Awesome Social Media Icons
Glimpse Social Media Icons
Flaty Social Media Icons
iOS8 Social Media Icons
40 Social Media Icons
100 Flat Long Shadow Icons Vol:1
100 Flat Long Shadow Icons Vol:2
100 Slim Icons
200 Colorful Flat Long Shadow Icons
200 polygon Long Shadow Icons
50 Flat Transport icons
40 Flatin Social Media Icons
40 Flat Long Shadow Icons
100 Extreme Folded Social Media Icons
36 Long Shadow Thin Icons
Certangle iOS8 icons Concept
100 Fruity Social Media Icons
100 Round Edge Social Media Icons