3300+ Ultimate Photography Actions – Affects and Many More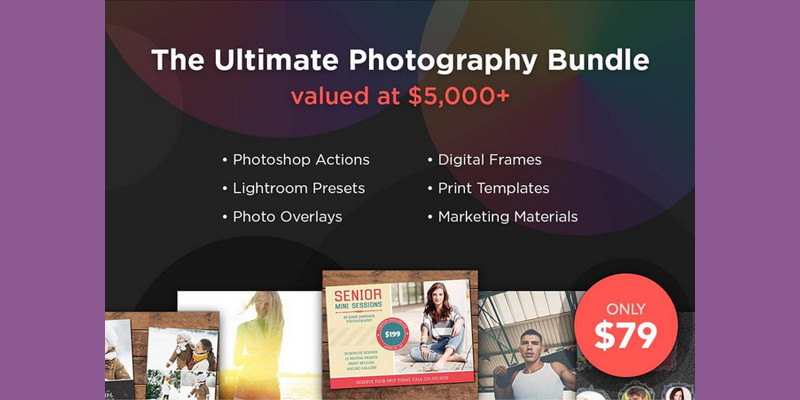 If photos are your game, then this Mighty Deal from PhotographyPla.net has your name written all over it! The Ultimate Photography Bundle features 1000+ Lightroom presets, 700+ Photoshop actions, 500+ Photoshop Elements actions, 1000+ photo overlays, 125 card templates, and a collection of amazing marketing resources to help you promote your work. These actions and effects cover all sorts of themes from newborns to weddings, so jump on this deal now!
Highlights:
1- Get more than 1,000 Lightroom presets to easily enhance your photos and turn your images into artistic masterpieces.
2- Lightroom presets (for LR 4, 5, 6 and CC) cover a wide range of effects including vintage, HDR, matte, film, black and white, light leaks, split toning, pastel, color pop, cross processing and tons more.
3- Take advantage of the 700+ Photoshop actions to quickly and easily add a variety of professional effects to your photos.
4- These actions (for PS CS4, CS5, CS6, CC and CC 2014) will produce some of the coolest, high-quality effects around, such as HDR, vintage, cross processing, cinematic, wedding, film-inspired, light leaks, haze, intensify, touch of drama, urban, and much much more.
5- You'll also get more than 500 actions for Photoshop Elements (PSE 11, 12 and 13) to make sure your image altering isn't just limited to the full version of Photoshop.
6- Have fun decorating your images with 1000+ photo overlays, compatible with both Photoshop and Photoshop Elements.
7- Your photo overlays are chock full of creative effects like light leaks, haze, swirl, snow and rain, which can be used on a variety of photo types including maternity, newborns, weddings and more.
8- Put together printed cards from your photo sessions using these 125 card templates covering a variety of topics like birth announcements, graduation, save-the-date, Christmas cards and more.
9- Besides all these fabulous tools for adding some sparkle to your images, this fabulous bundle also includes a slew of marketing materials that can help you to run an efficient and effective photography business: logo templates, marketing and branding kits, and contract templates. The kit includes the following contract templates, in both Word (.doc) and Photoshop (.PSD+ formats:
– Portrait Photography Contract
– Wedding Photography Contract
– Cancellation Agreement
– Model Release
– Photography Release Form
– Personal Use Authorization
– DVD Info
– Invoice
– Credit Card Authorization
– Payment Plan Agreement
3300+ Ultimate Photography Actions – Affects and Many More – only $79!

Pricing:
Bought individually, the items in this ultimate photography bundles would cost you $5,275 but for a limited time only, you can get everything listed above for only $79! That's a tremendous savings of 99% off the regular price!
Click the BUY NOW button to give your photos a real boost today!
Deal terms:
Delivered as an instant download, after completing your purchase.
The download is split into 11 files, with a total size of 2.7 GB.
Photoshop actions require Photoshop CS4, CS5, CS6, CC, or CC 2014. Some actions are compatible with Photoshop Elements 11, 12, and 13.
Lightroom presets require LR 4, 5, 6, or CC.
Products can be used for unlimited personal and commercial projects, without attribution.
Products cannot be re-sold or re-distributed.
99%

 Savings – 

$5275

Value – 

$5196

 You Save