Everyone looks for exclusivity and distinction, whether it is wardrobe attire or WordPress theme. This is because no one wants to take a back seat and seeks to be in the front row. Well, if it is about a site or blog, looking different and delectable matters a lot because the competition is very high and even a small amount of laxity on your part can keep you from achieving your potential. So, make sure you get unique WordPress theme designs to build your site because they are loaded with distinctive and delectable aesthetics that will easily bring you in the front row.
At present, the designing trends of WordPress are very much in favor of parallax and minimalism. The flat style themes are also in demand as they are friendly with the handheld smart phones. Sliders and animations have been always been a hit with the people because they add charm and dynamism to your web platform. Well, the designing options are quite a lot and since WordPress is all about flexibility, you can easily tailor the layout to go with your personal taste. So, here is a collection in your service that boasts of 45 unique design WordPress themes. Check it out.
NewsTimes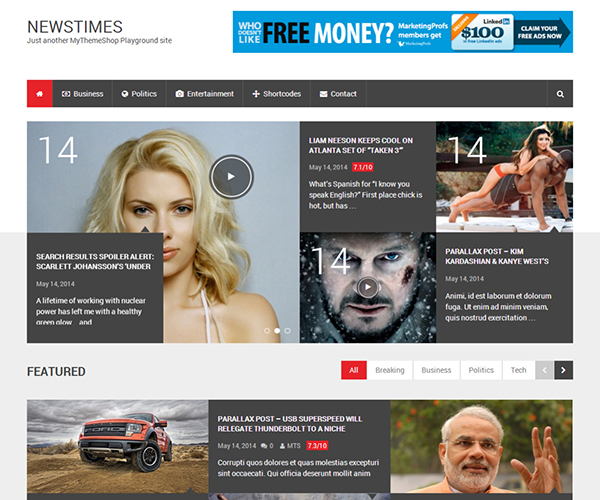 NewsTimes is loaded with pixel perfect design and attractive display. It is ultra responsive, incredibly fast, SEO optimized and many more things. The theme works on your news site very well and brings a great deal of popularity while acquiring all the eyeballs effortlessly.
Javo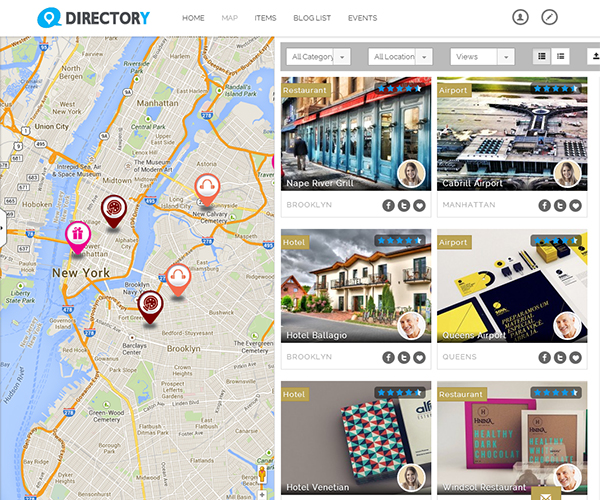 Javo is a fresh theme meant for Directory & Listings site. It comes packed with 4 front-end forms with pictures/images, Google maps, Video, Custom fields, User profile, Reviews form, Ratings form and Events form. The template is very special and will impart an exclusive look to your web platform.
Game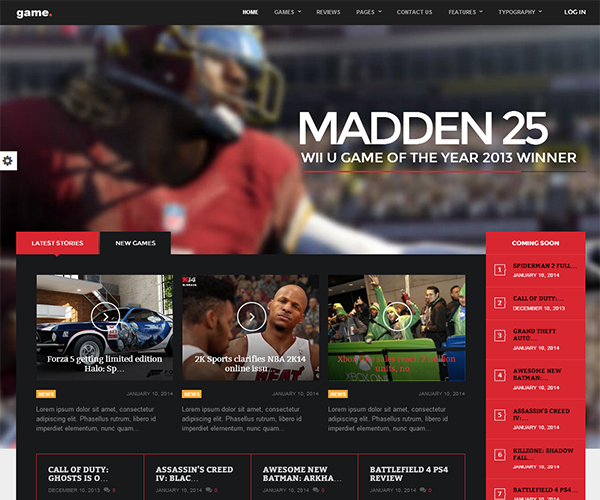 Game is a dynamic theme with exclusive high-voltage aesthetics and all the requisite features needed to win hearts of gaming aficionados. The theme offers superb functionality through the custom plugins and widget. With it, you can easily create an in-depth and extensive website.
Schema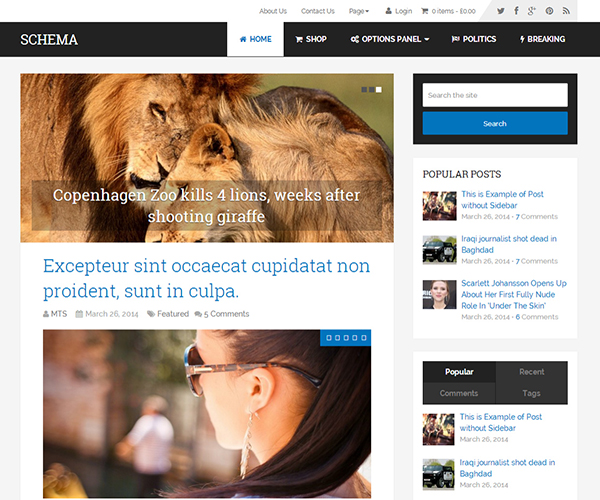 Schema is a super fast, ultra-SEO friendly WordPress theme coming from the shelves of MyThemeShop. It can serve diverse purposes and comes with top notch support that will easily find favor with any modern WordPress user.
Agriculture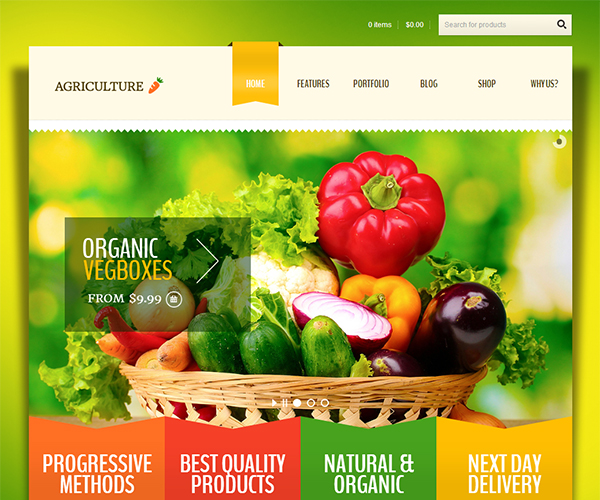 Dedicated to agriculture, this WordPress theme is very simple and friendly. Things can be managed with clicks and you will get all the raw material to build your dream site. Agriculture possesses a very unique design and its simplicity is simply outstanding.
Vidio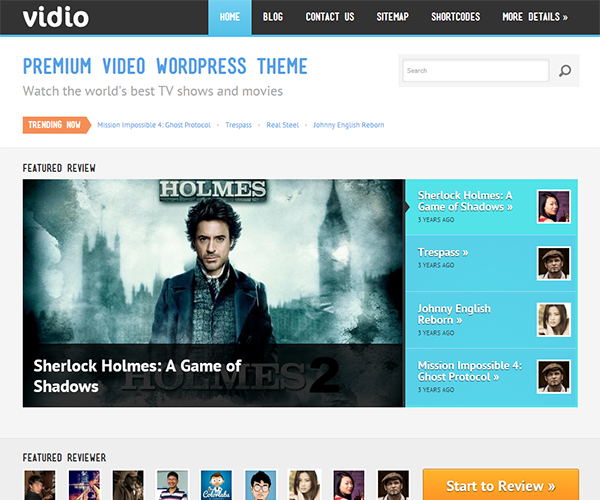 Vidio serves video sites and blogs. This theme is very media friendly and carries lots of options to design things as you desire. Also, the speed is remarkable and design pretty unique.
Music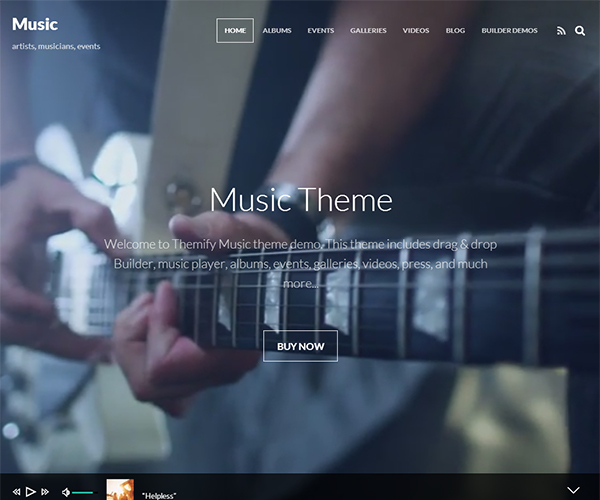 Music has been designed for artists, events, portfolios, photographers, and even apps. The template carries custom features and is also open to modification. You can easily upload albums, songs, create eye-catching pages and do lots more.
Stratos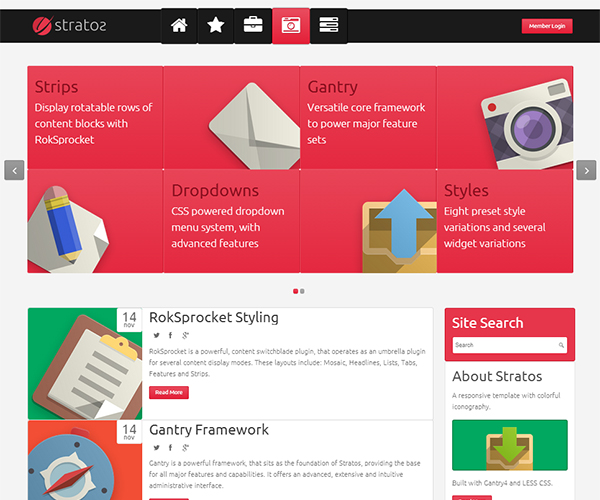 Stratos possesses a visually interactive design, with CSS transformations to allow theme elements to pop in a three-dimensional manner. It is very captivating and well supported by contemporary functional features. Your site will be good to go after installation and you can easily get desired results.
The Grideon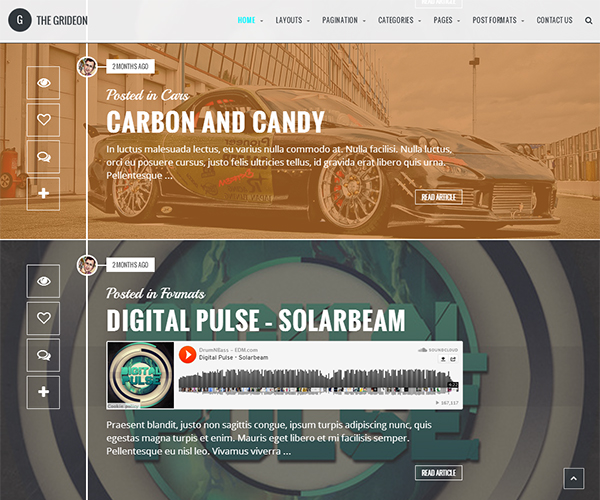 The Grideon is a blogging/portfolio theme with tons of options to manage and modify any aspect of the template. It is very smart and loaded with a friendly interface so that you can control and manage everything without touching even a single line of coding.
Games Zone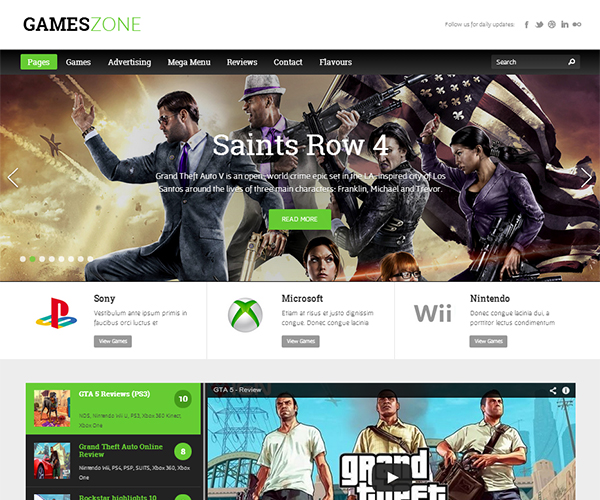 This is a gaming WordPress theme loaded with fresh looks and customizable layout. Games Zone is very easy to use and its attributes are totally in sync with the modern trends and tastes of your target audience.
Handmade Two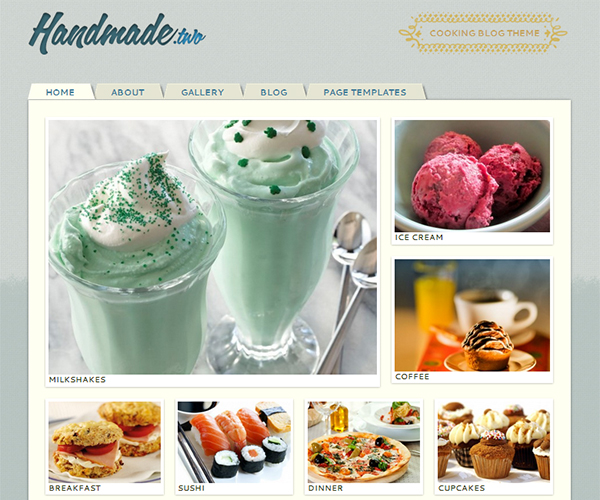 A unique retro-styled WordPress blog and eCommerce theme, Handmade Two brings for you the right mixture of design and functionality. It is very detailed and has been crafted to cater completely to all kinds of screen sizes and resolutions.
Immunity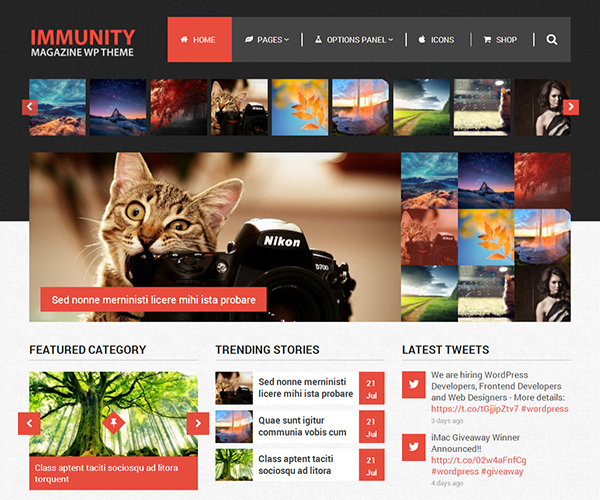 Optimized for speed, search engines and ads; Immunity is a superb theme. Designed by MyThemeShop, it is a cave full of fabulous features and gives you all the options to customize your site in your style. Do, give it a try and you are in for a pleasant surprise.
Alerion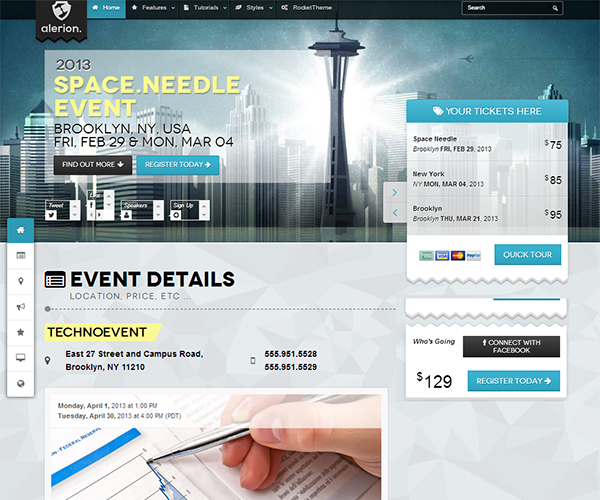 This RocketTheme product makes use of parallax design. It catches instant attention and comes with complete ability to deliver great results at a cost-effective price and in record time.
Nicanian II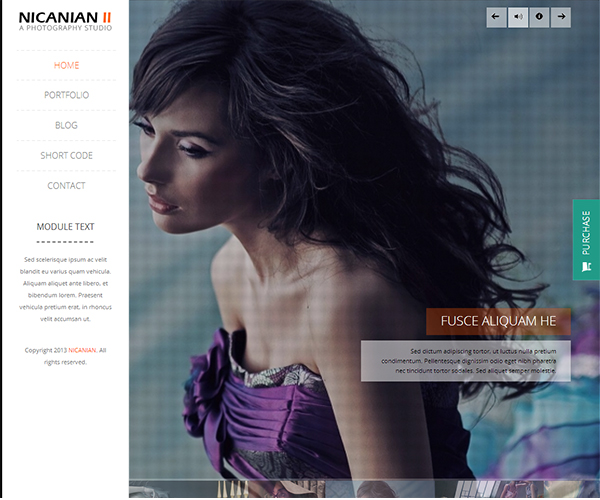 Supported by Bootstrap, Nicanian II is an amazing WordPress theme. It is fit for photography sites and comes with full screen video, responsive design, portfolio layout, etc. It is one of a kind and if you desire distinctive style, the template is a must-have.
Blogo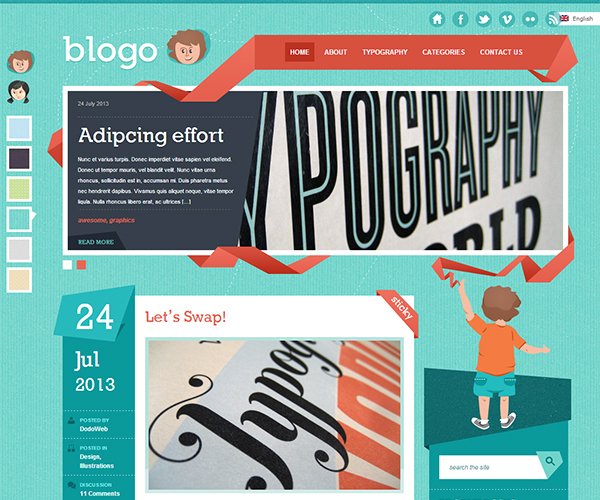 Blogo is a cute and stylish WordPress theme for creative bloggers. It is very simple to use and comes loaded with latest technique so that you can give your best. The template is a treat for the eyes and mind and you will like it for sure.
Unity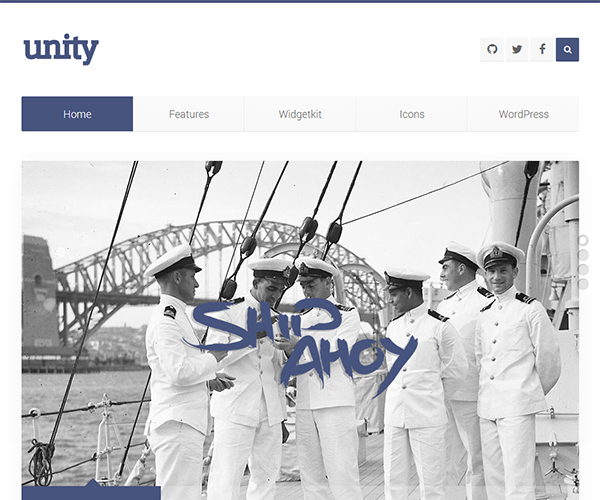 Holding boxed style layout and fullscreen header background styles; Unity is a classy theme with a whole bunch of cool features. It gives your content a nice and orderly presentation. Your audience will love your site and give it high points.
Bromo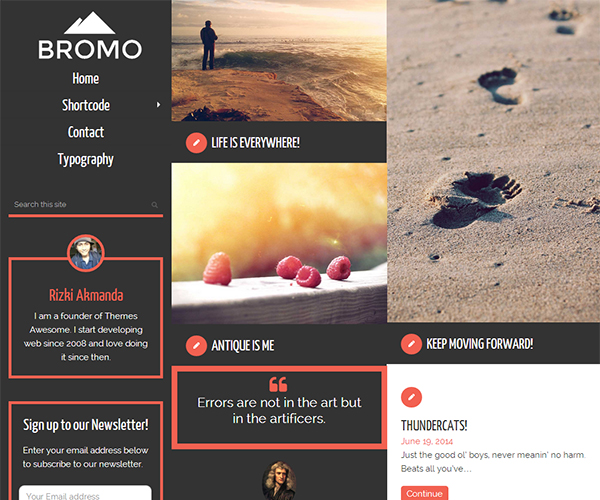 Bromo lays emphasis on mixed media and typography. This classic and unique blogging WordPress theme offers you the grid layout along with all other coveted features. The template is best for content driven web platforms and will easily take you into the limelight.
Statesman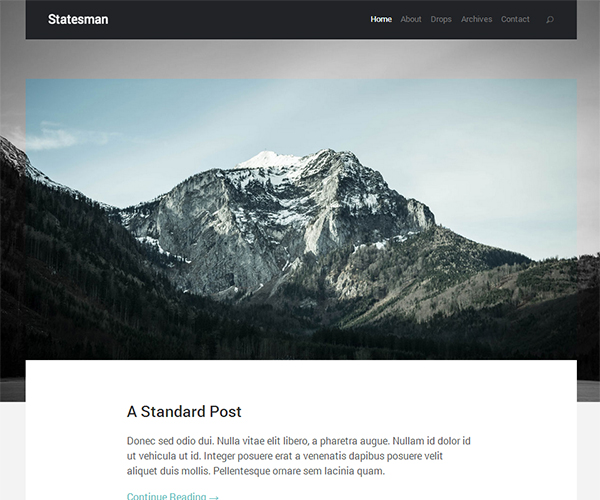 Statesman places your content above all other elements. This elegant and energetic theme is an ideal for bloggers as they can concentrate fully on writing. It also carries other relevant features and thus, comes forward as a complete package.
Beat Heaven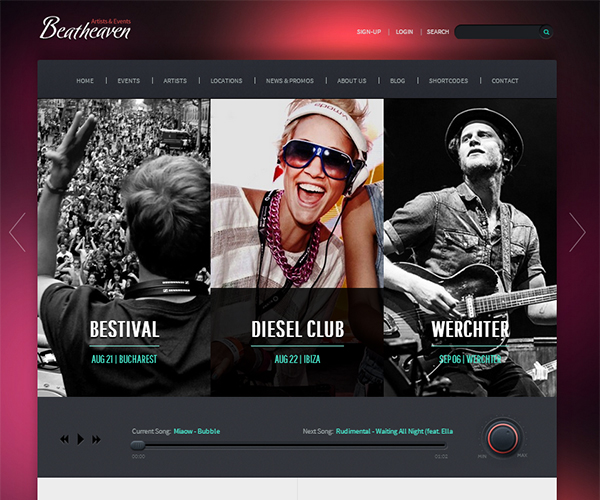 Developed for music and events sites, Beat Heaven is a customizable and easy to use theme with lots of styling tools and complete functional features. It offers you many designing elements and gives your art a very strong platform to showcase itself.
Trail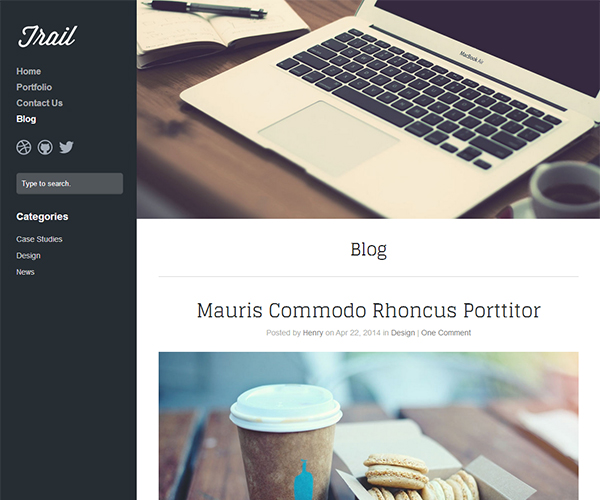 Trail is fitted with a full screen vertically scrolling parallax home page and offers you big images along with beautiful typography. The template is very distinct and would make your website look equally different and delectable.
Eat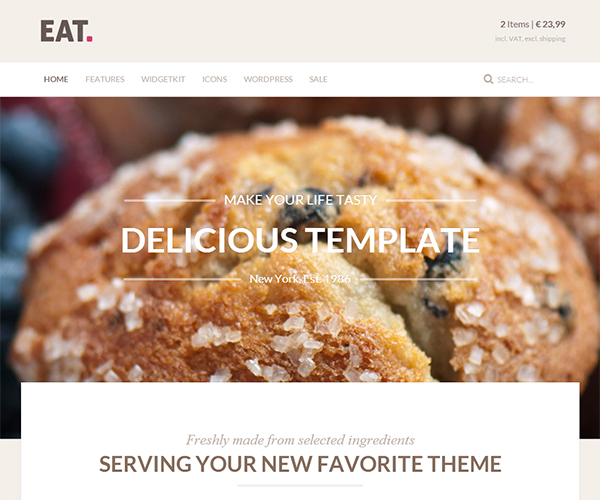 Eat is a fantastic theme for your online shop or to present your cafe, restaurant or bar. The theme is very smart and loaded with cutting-edge design and functional features. Your site can easily acquire a mouth-watering look using the template.
Kancing
Kancing is a WooCommerce ready eCommerce theme best suited for small business websites like online boutique selling apparel/clothing stuff. The theme comes with complementary and distinct design. The functional features are also in line with this niche and give you first rate results.
Praxis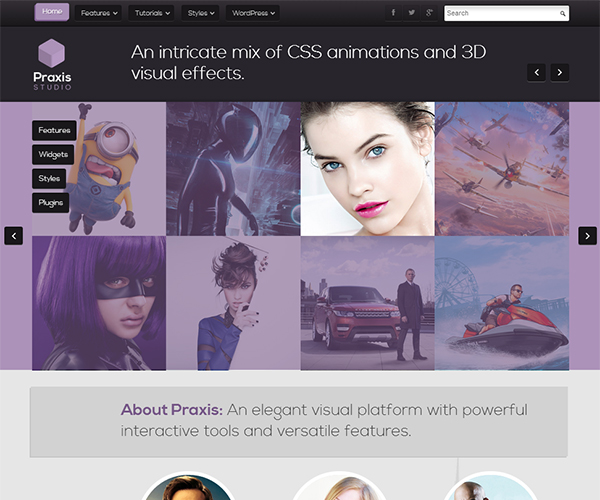 Praxis, from RocketTheme, is a great meeting point of content enriching visual elements and powerful, underlying interactive and configurable features. The theme is very powerful and offers you CSS animations along with 3D effects. Do check it out once.
Allianz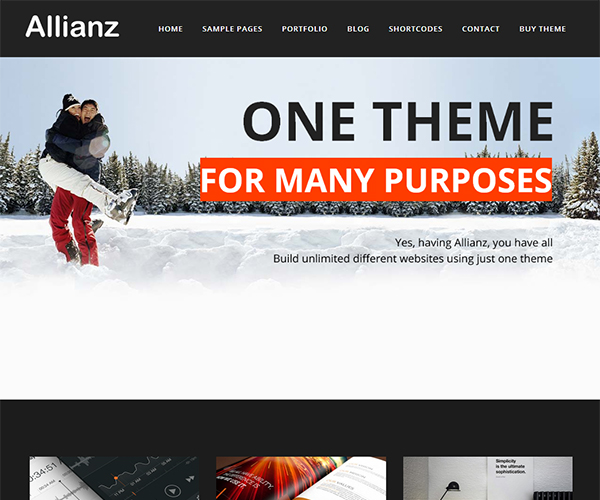 Allianz is a very lively theme with lots of designing modules. It offers you unlimited layouts, colors, ultra responsive design, clean looks and much more. It is very versatile and can be easily molded to fit into various segments. Just get it plugged and you are good to go.
Charity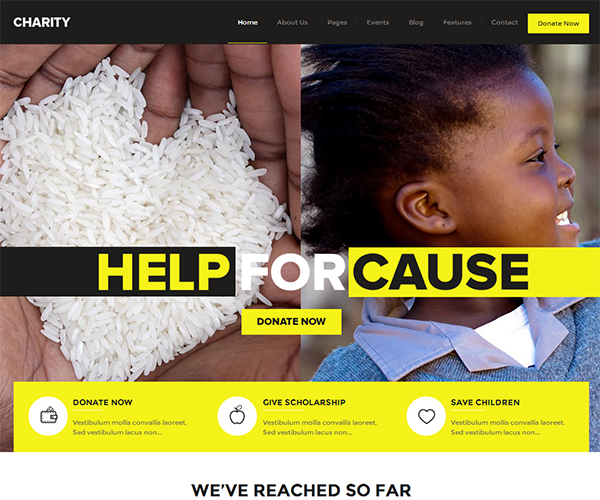 Based on the Twitter Bootstrap Framework and blooming with features, Charity is a cool theme for Donations/Fundraising/Foundation/Activism/Cause. It is very well-built and offers complete support to help you achieve your objective. The template also holds unique design that is totally in tune with this noble niche.
Monospace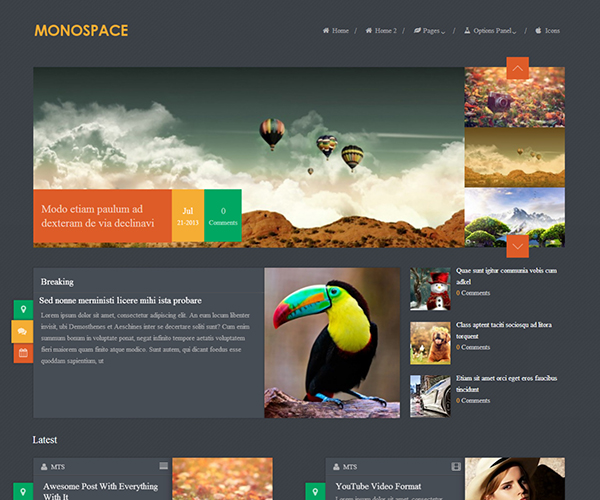 Monospace is a unique WordPress theme from MyThemeShop. It offers you creative design and tons of features along with customization alternatives. The template is a fountain of fantastic features and you will be really delighted with its display and performance.
Circles Blog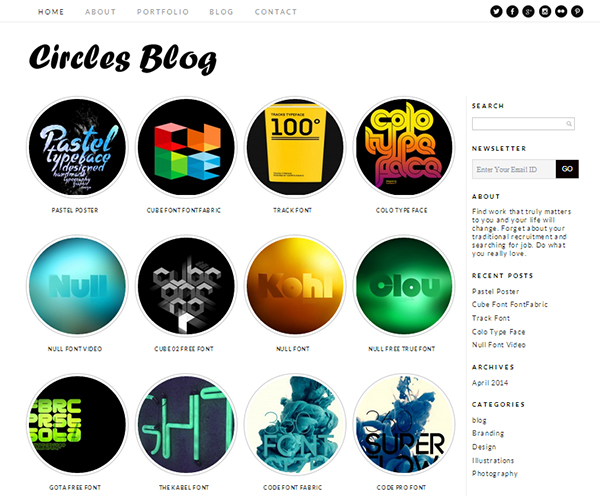 Loaded with clean design, responsive layout, infinite scroll, custom background color, SEO optimization, cross browser compatibility and lots more; Circles Blog is a must-watch theme. It is a great choice for creative professionals and offers you a very strong platform to display your work.
Traction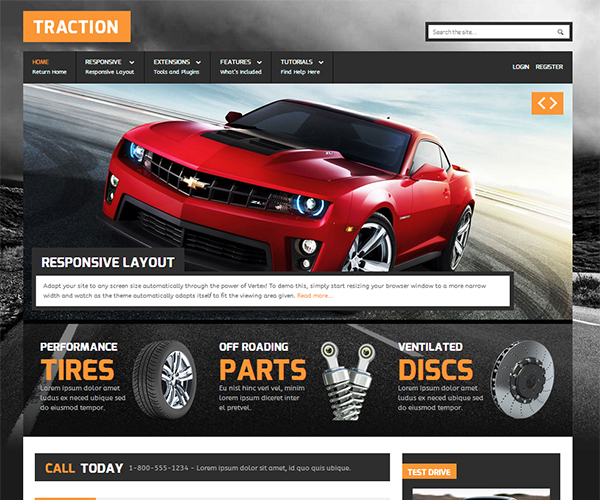 Traction is a scintillating theme with high-voltage aesthetics designed for car lovers and garage websites. Its custom background image, custom highlight color, dynamic module title colors and other designing elements can easily entice you. The theme is technically advanced as well and sure to take you to the coveted realms of popularity.
Velcro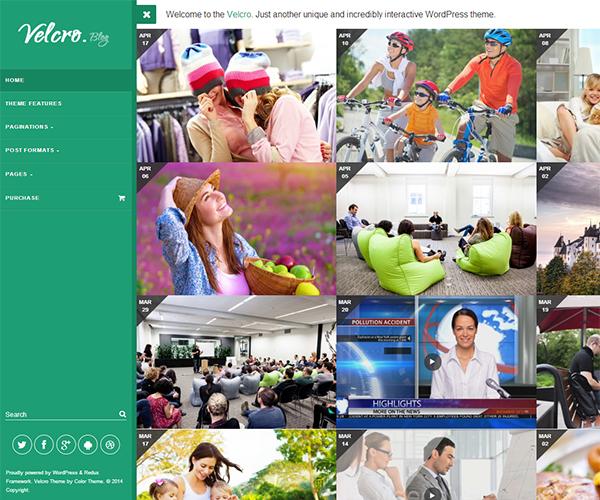 Velcro is packed with 10 custom widgets, 5 widgetized areas, 5 post formats, 2+ Home page layouts and tons of theme options. It is fit for blogging, portfolio, etc. The template is very user friendly and you can get started as soon as you activate it.
New Maxx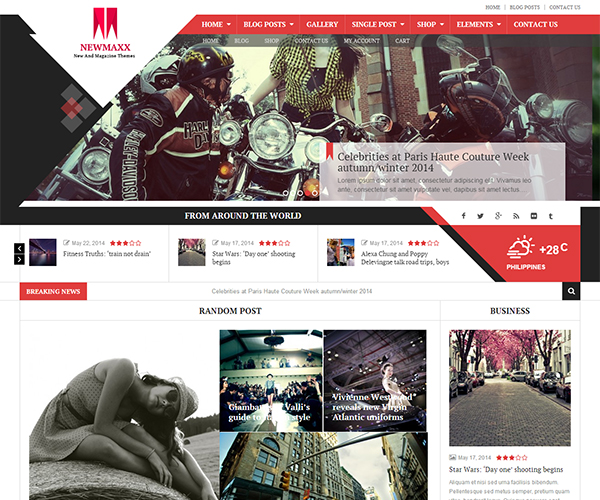 Offering support for multiple post formats, a number of page layouts, clean design and many more attributes; New Maxx is a classic WordPress theme. It is very versatile and can easily fit with different segments. And the best thing is that you can control and manage everything with great ease.
Senorita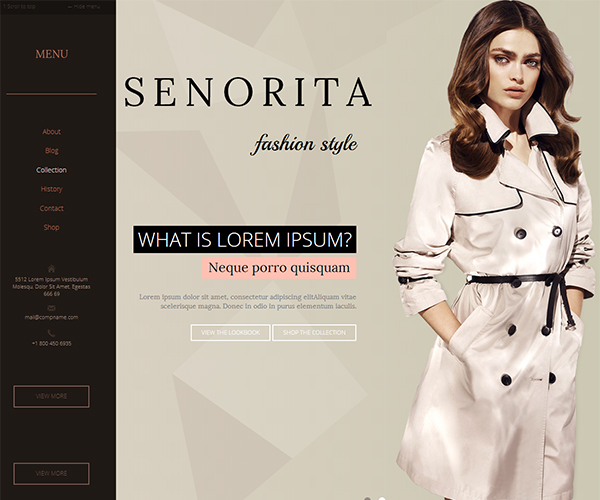 Senorita is a new and nifty theme with responsive design and all other sought-after features. It is ideal for gossip, celebrity websites and can also fit with fashion eCommerce sites. The template appeals you with its distinctive flavor and makes you a sweetheart of all and one.
Diary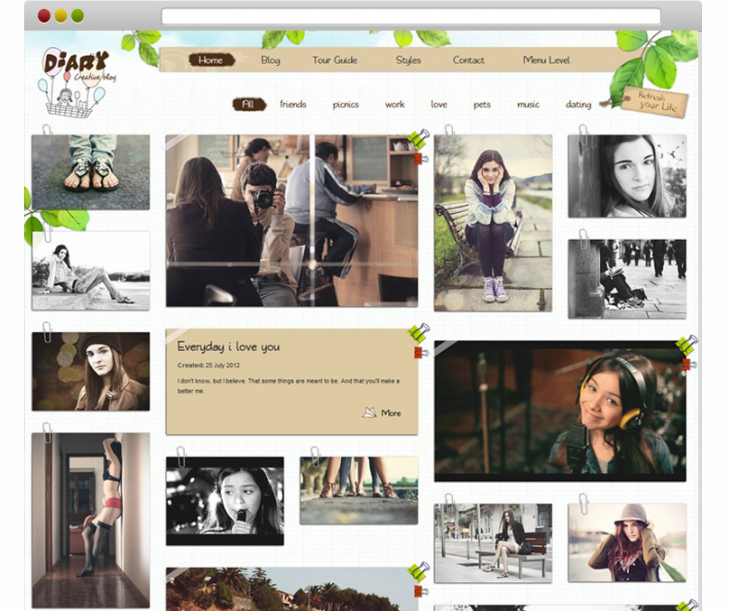 This is a beautiful and modern blogging theme. Diary is loaded with every necessary attribute you need to express yourself fully. It offers you motivation and complete comfort to your audience so that they can enjoy your blog.
Photo Artist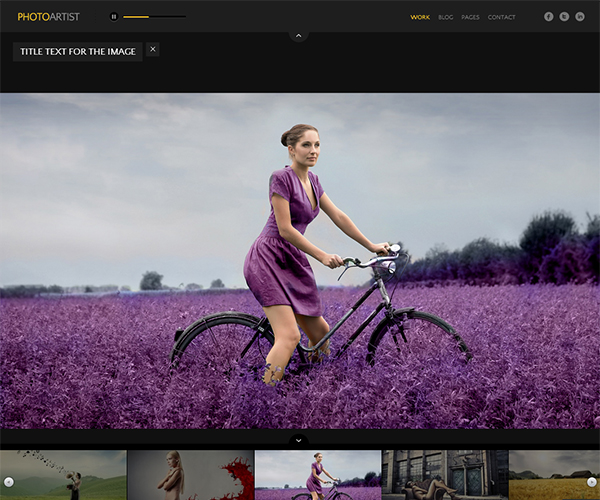 Photo Artist is a portfolio theme for photographers. It is very customizable and easy to use. Its full-width slider helps to catch quick attention and the shortcodes, contact form, multilanguage readiness and other features add to its power.
EZ Web Hosting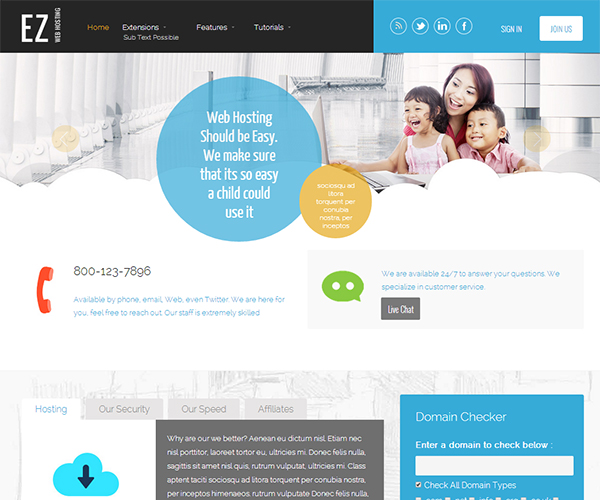 EZ Web Hosting is a clean and cool theme with responsive design and a bag full of features. The template has been designed for web hosting sites and comes with tailor-made features. You get limitless possibilities to change the design of your site and that too without messing up with the coding.
Tapptastic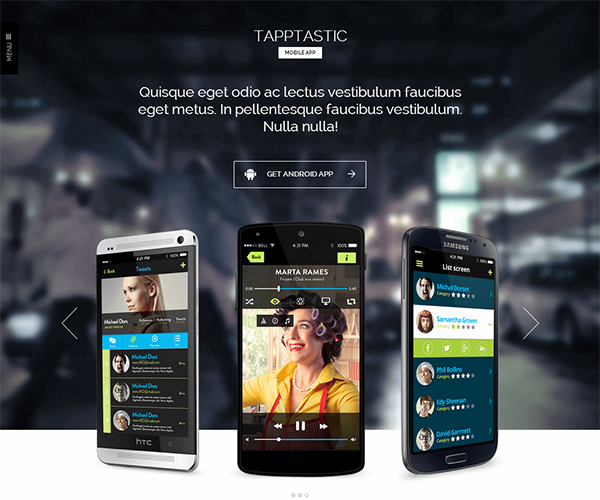 Here is a modern and tech-efficient responsive WordPress theme for smartphone developers looking to market their apps. Tapptastic is very customizable and easy to use, with all the niceties that make a theme worth possessing. It will certainly fulfill your purpose and give you quick results.
Aslom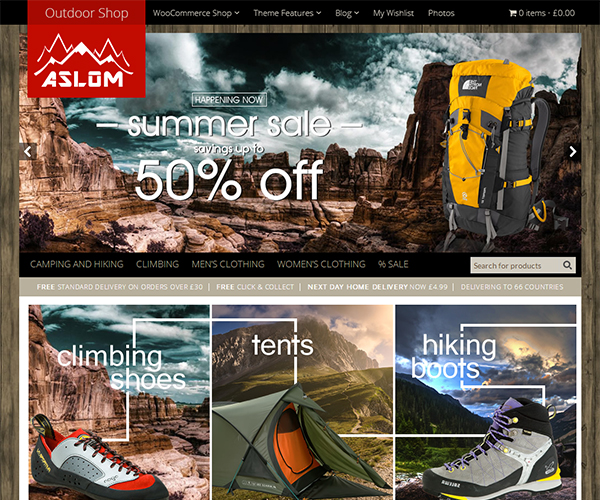 Aslom is an alluring theme fit for magazine style websites and eCommerce stores. It is best fitted for segments such as travel, outdoor clothing, winter sports, skiing, snowboarding, etc. The design is completely unique and gets you into the good books of search engines and audience in a very short time.
Safarica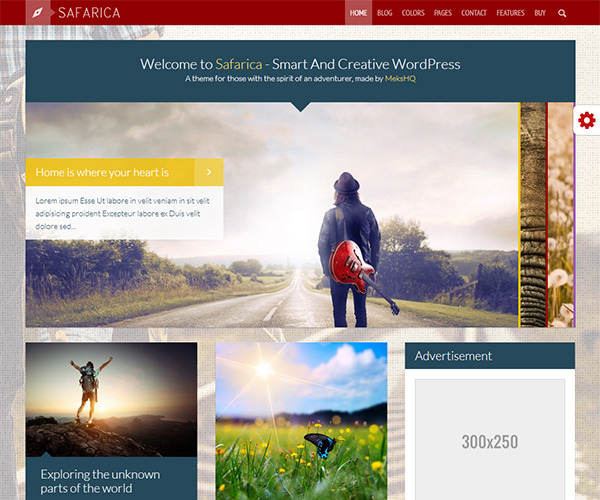 Safarica is a smart, creative and professional WordPress blog theme. Its designing elements are very different and give your web platform an equally distinct display. With this theme, you can be sure of class and competence in fine measure.
Grid-Commerce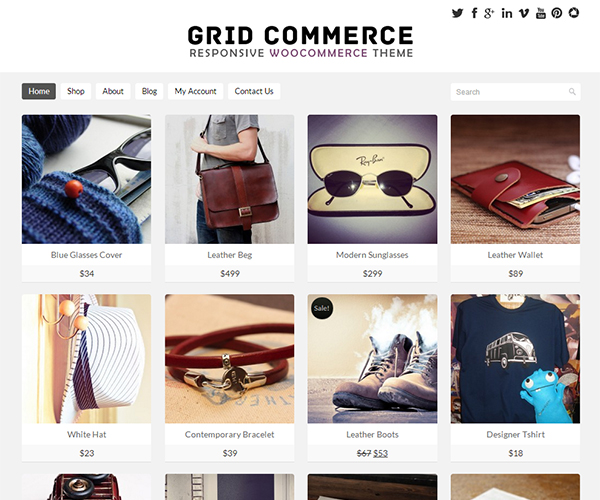 Grid-Commerce is a WooCommerce integrated responsive WordPress theme. Minimal layout and clean design are its defining features and make it very different. It works on making your shoppers feel comfortable and thus, gives you rocking results at a cost-effective price.
Mustache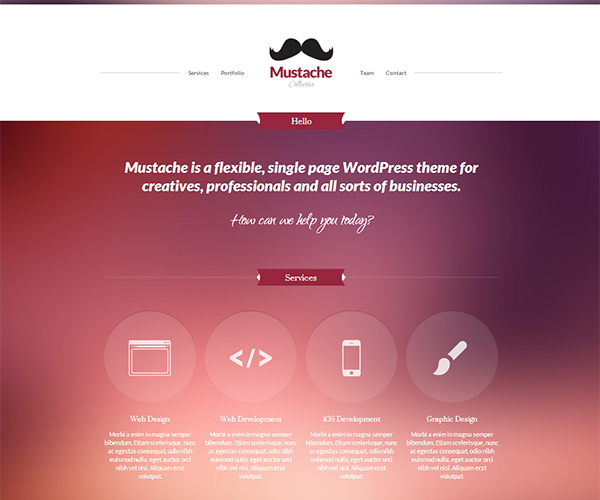 Mustache is a mobile friendly theme designed for business and portfolio websites. Its distinct looks and top notch features give it a very strong appeal that will definitely translate into results.
The Blogazine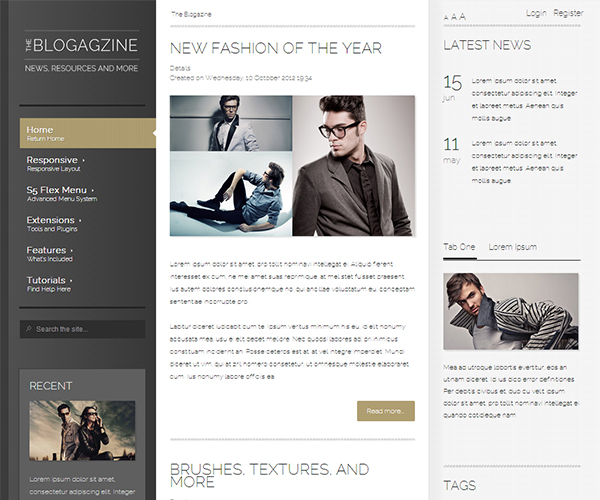 Suitable for any blog or magazine style website, The Blogazine is a very content-focused theme that gives you the option to change colors, background and many other elements. It is a new-age template with very brilliant framework that you are surely going to enjoy working with.
Spectral
Produced by RocketTheme, Spectral is a contemporary theme with modern design and cutting edge functionality. It comes with the ability to display lots of content without compromising on visual excellence. The template is very unique and can be completely relied upon.
iCarus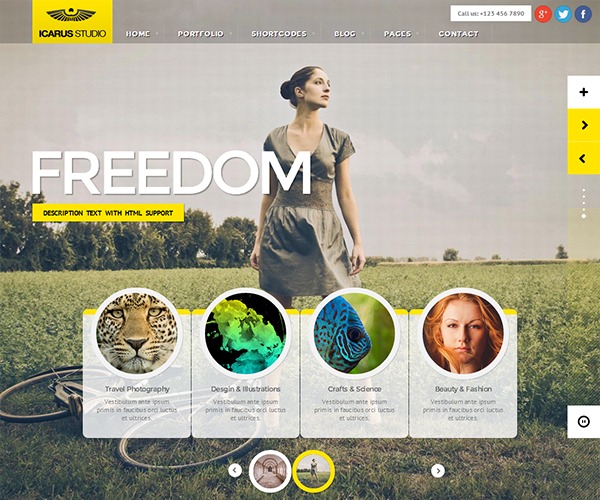 iCarus is a fullscreen responsive theme with a variety of fullscreen posts. It provides fullscreen homepage with service/product blocks for customers so that you can create maximum impact. The template is totally synchronized with the present day needs and thus, is an ideal fit for you, from all angles.
Jaguarian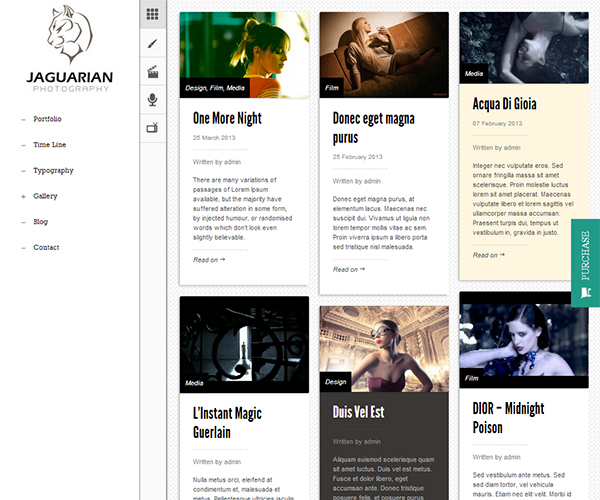 Jaguarian is a robust and rocking theme that would make your portfolio stand apart from others. It is completely responsive and fit for everyone who wants to store and share in style, using images and videos. The template is surely going to make your day and you must bring it soon.
Restaurant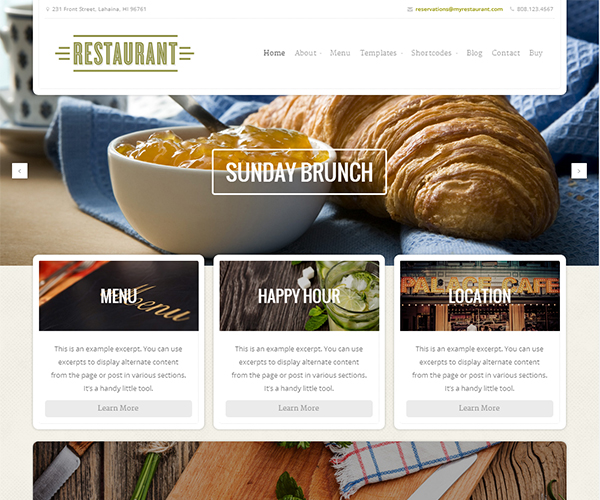 Restaurant has been designed for restaurants, cafes, food bloggers and other cuisine related industries. Loaded with an elegant design and delicious layout, this template is your ticket to acquiring credibility and popularity. So, take it quickly.
OnePage
OnePage is an awesome single page WordPress theme with diverse page layouts. It is clean, responsive and fully flexible. Its features are very marvelous and offer complete support to your web platform. You can design things in your style and rest assured results will satisfy you.