Free 3 Rollup Mockups For Advertisement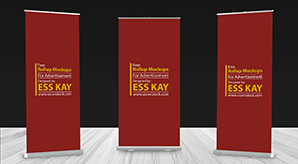 Imaginative Designers are no less, they are the craftsman of energy and development. Since ordinary requests something new out of them that is right on the money, that is rousing and that is noteworthy all the same. It is not just about sitting on the work area, viewing the desktop screen, typing a couple words, hurling mouse here and there to make an outline, it takes something past and more than that. Behind each configuration there is an importance, a story and a sense which portrays it quickly and exhaustively.
We all have shrouded possibilities and gifts, the sooner we become more acquainted with about them the better we can set our objectives. An existence without a point is not an existence by any stretch of the imagination, it is simply living. Continuously set exclusive expectations and make your own track whether it be your profession or picking a field for yourself.
I designed the Free 3 Rollup Mockups For Advertisement that are the need of the hour. The mockups are designed in photoshop, which are totally editable. You must double click the smart object layer and paste the design in new window, just save, close and get the desired result. This mockup is free to use in both personal and professional use, but don't forget to give the back link. Feel free to download and enjoy.
Free 3 Rollup Mockups For Advertisement
Free 3 Rollup Mockups For Advertisement
License: Free for personal and commercial use + (Link Back to This Mockup)