Free Promotion Counter Mockup For Advertisement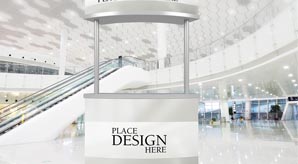 Graphic Designer are no less, they are the craftsman of energy and advancement. Since regular requests something new out of them that is right on target, that is moving and that is noteworthy all the same. It is not just about sitting on the work area, viewing the desktop screen, typing a couple words, hurling mouse here and there to make an outline, it takes something past and more than that. Behind each configuration there is a significance, a story and a sense which depicts it quickly and thoroughly.
This is the genuine soul of an architect, in light of the fact that he never feels low or down and out about himself, he has confidence in his expertise and he never questions his potential. Clearly with encounters on the working environment and after blunders/botches, any man and each man adapts so is the situation with fashioners. They generally go about the approaches to enhance and improve work the exact next time.
Their acknowledgment of ground reality, their short lived creative energy, their consistent with sort nature and their affection for the occupation make them rise and sparkle. Assume if a haughty and prideful person doesn't take feedback in a constructive soul, his shots of change and advance cut him a slack. Might you want to leave a negative impression onto your customers' psyche that in future you cut a heartbroken figure? Never, so dependably be sensible, having the inclination to learn and giving in what is expected from your side.
Picking a calling is the hardest stage in a man's life, at first taking the line of instruction, then grabbing a profession and after that endeavoring all endeavors headed to the business is the aggregate lifespan of a man. Have you ever seen a man doing nothing and as yet acquiring millions? Well that is a fantasy and can't work out as expected.
Today i designed the Free Promotion Counter Mock-up For Advertisement. This mock-up is designed in Photoshop. You just double click the smart object file, paste for design and get the desired result. This mock-up is specially use for branding and advertisement. That is very useful for your presentation.
Free Promotion Counter Mock-up For Advertisement
Free Promotion Counter Mock-up For Advertisement
License: Free for personal and commercial use + (Link Back to This Mock-up)